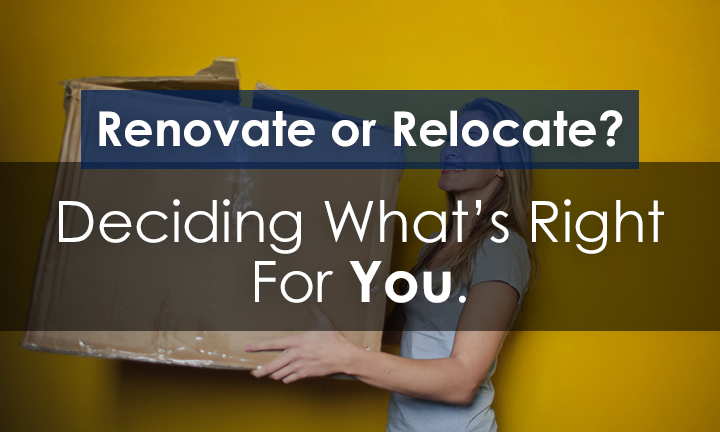 Renovate or Relocate?
Deciding What's Right For You.
January 15th, 2019 / by Lake Area Mortgage
The time comes in every homeowner's life when they must ask the question: "Is my home still meeting my needs?" Life events — such as a new job, growing family, or empty nesting — will make your once-perfect home less perfect as time goes on. Maybe you're bursting at the seams and can't fit any more relatives around the holiday table, or perhaps your once-full house now feels like an empty, open space. Whatever the reason, if you've realized it's time for a change, the next question becomes: "Should I relocate — or renovate?"
The answer ultimately depends on what's driving the change, and both choices have upsides and downsides that you should think through before taking the leap.
Relocating: When it's time to move on-
What makes moving the best choice? Here are some common reasons for wanting to relocate:
Shorter commute
Better school district or new neighborhood
Need more square footage
Need less square footage
Unpleasant neighbors
Prefer a more manageable yard
Your financial situation has changed
Things to consider:
Can you reconfigure or add on to your space? If more room is what you need, consider whether you can get it by reconfiguring the layout. Sometimes it's not more square footage that people need, but rather a more efficient setup. If you do need more square footage, is there room on your property to build an addition?
Would a refinance make your home more affordable? Are you paying for mortgage insurance that you no longer need? Do you have a jumbo or non-conforming loan? Do you have an adjustable-rate mortgage and would benefit from switching to a fixed rate? Refinancing may be able to help lower your payments. Contact us to discuss whether this would be right for you.
Do today's rates and market outweigh the cost of buying and selling? It's no secret that the market is quite favorable these days. A lot of homeowners are making the right decision to sell their home. Although, moving only benefits you if you surpass the break-even point in selling vs. buying. Selling costs may include: staging your home, agent commissions (usually around 6% of the sales price), capital gains tax* (if applicable), and other miscellaneous costs. Conversely, if you'll be buying a home at the same time, be prepared to pay the down payment, closing costs, survey and inspection fees, etc. Talk to a Lake Area Mortgage Banker to help you calculate your break-even point. You might be in a great financial position to sell!
Renovating: When it's better to stay put-
What makes renovating a smart option? Here are some situations where renovating makes sense:
Emotional attachment: You're not ready to start over
Don't want to change neighborhoods or schools
A reconfigured layout could solve your space issues
You have space to build an addition
Your home has some outdated features but no major structural issues
You want to custom design a space for your needs
Things to consider:
What will it cost? Before you can answer this question, you need to have a detailed plan outlined for the type of updates you want to make. Get bids from several reputable contractors to see what it will cost you, and keep in mind that renovations often involve surprise costs once the work begins, so be sure to build a cushion into your budget.
Are the upgrades reasonable for your home and neighborhood? Be careful that the cost to make changes won't price your home much higher than the surrounding neighborhood. Talk to a real estate agent or look on Zillow® to find out what similar homes are going for on your block. Also, be sure the changes you're making are in keeping with the character of the home and surrounding neighborhood. An ultra-contemporary kitchen could be a big mistake in a classic Victorian home. And don't forget to consider how much you'll recoup financially. While it's not all about ROI (the point is to have a space you enjoy living in, after all), try to make smart use of your investment. Not sure where to start? Check out our previous blog post: Home Improvement Projects That Pay Back.
Can you handle the change? A major remodel could take months, and depending on the scope, could require you and your family to relocate temporarily. Even without such a big change, you'll have to deal with people coming in and out, dust, dirt, noise, and possibly loss of access to parts of your home until work is done. Can you manage that on a temporary basis? Think of the impact it will have on your daily routine and whether your family is ready to take on that extra stress. Although this will likely be an inconvenience, if you can manage it on a temporary basis, your home can be transformed into your dream – and increase your home's value.
Choosing to renovate or relocate isn't always a straightforward decision. There's a lot to consider, but as long as you weigh out the options and understand your needs, you can confidently make the best choice for yourself and your household.
Whether you're ready to move or update your current space, Lake Area Mortgage can help you find the home financing to turn your dream house into your home. Contact us today to get started!
*Lake Area Mortgage is not a tax advisory firm. Consult your tax preparer or advisor for more details.
Any above referenced trademarks are property of their respective owners and are not affiliated with Lake Area Mortgage or this content.