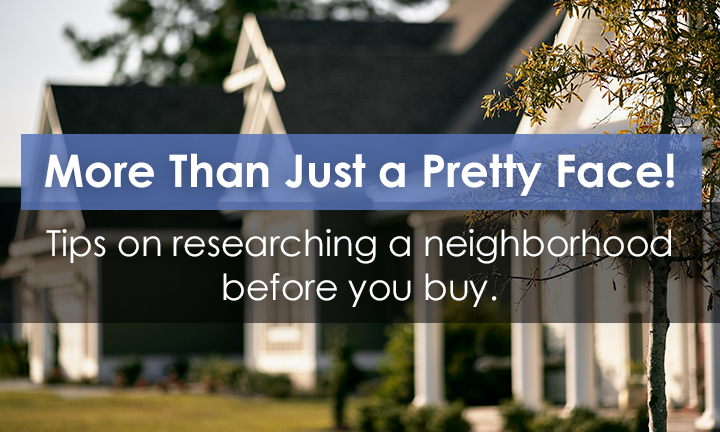 More Than Just a Pretty Face

Tips on researching a neighborhood before you buy.

August 20th, 2019 / by Lake Area Mortgage
There are plenty of homebuyers who set their sights on certain neighborhoods, having lived near them or walked through them many times over. They know all there is to know about the area's school district, the shopping, and its commercial spaces. They're just waiting for the right house to pop up.

So, what about those considering buying a home in an area unfamiliar to them? What homework will they need to do on their own? There are certain things their Realtor isn't permitted to tell them because of real estate and Fair Housing laws. "Even if the area looks nice, you never really know what happens after dark—or sometimes even in broad daylight," says Realtor.com's Larissa Runkle. For instance, safety and crime rates are a biggie, especially if you have kids. What is the likelihood of getting your car broken into if you leave it on the street or your own driveway? Your agent can't help you here, because they legally are not permitted to answer questions like these. There are, however, ways to find out on your own.
Online research should tell you what you need to know if you type "crime rates in —— neighborhood" into a search engine. Some sites are better than others, such as AreaVibes or CityData. Also try CommunityCrimeMap, which features information, times of day, and locations where trouble happens. If you feel more at ease with it, look up public records like police reports, which are often listed in local papers or online. Snooping online at NextDoor, Reddit, or the city's website are not bad ideas either. There you will find threads where residents have discussions about their neighborhoods and offer opinions.
When in doubt, talk to the locals.
Do some door knocking or stop into some local businesses to get the scoop on the neighborhood. It's especially easy when you see people outside washing cars or mowing lawns. Tell them you are interested in buying in the neighborhood and ask if they would move there again if given the choice.
Take in your surroundings.
There are also several other things to check out on foot or in your car, such as how beat-up the parked cars appear to be, if there are blighted parts of the neighborhood where pride of ownership is not in abundance. And what about bars on windows, a lot of front gates or tall security fences? Are there a ton of homes for sale? Not a good sign. It's like walking into an empty restaurant during lunchtime when every other establishment appears to be thriving. Something is amiss.
Talk to your Mortgage Banker!
Moving to a specific community might make sense based on loan programs you can access just by purchasing in that neighborhood! Loan programs and grants can be offered by county, city, or even specific neighborhoods! And yes, you may have the ability to "stack" multiple programs! Huge savings! That's why it's extremely important to keep your mortgage banker informed during your house hunting process (aside from knowing how much house you qualify for 😊).
In the end, trusting your instincts is not a bad idea. "Nothing (and we mean nothing) can replace a gut feeling," says Runkle. "If you visit your new neighborhood and don't feel safe enough to walk around alone, then all of the online crime maps in the world really don't mean a thing."
Sources:
[1] Realtor.com
[2] TBWS , LOSocialbot