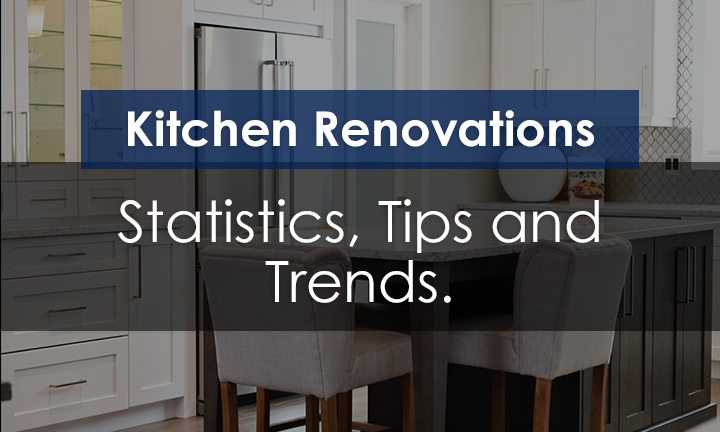 Kitchen Renovations

Statistics, Tips and Trends.

March 12th, 2019 / by Lake Area Mortgage
When someone asks, "What are you looking for in a home?" The most common response is usually, "I would like an updated kitchen…" Let's talk about why kitchens are the top choice in home remodeling, this year's top trends, how much it can cost and how to budget for it.
According to the 2018 Home Study done by Houzz, kitchens were named the top priority for interior renovations. Of the 72,000 surveyed homeowners (who completed a renovation project in 2018), 31% of them decided to renovate their kitchen. Improving a home's resale value was an important consideration for many renovating homeowners last year! 83% of kitchen renovators reported that it would have a positive effect on their home's resale value. Although, selling or not, who doesn't want a beautifully updated kitchen?  
How Much Do People Spend?:
How much will it cost to cook your favorite meal in your brand-new kitchen? According to the Houzz study, the average DIY renovation was kept between $13,700 and $25,000. However, this can increase greatly depending on overall customization; cabinet and countertop quality; appliance and flooring selection; and finishing touches such as hardware, sink, lighting and faucets.  Not a do-it-yourselfer? Plan to double your budget for contractor work.
Here are some basic budgeting tips:
Commit to spending the bulk of your money on things you don't want to replace often—such as appliances and cabinetry.

Make sure you're not over-improving your kitchen. You won't be able to recover the costs of your updates—no matter how nice they are—if they make your home the most expensive on the block. If you're not sure what's typical for your neighborhood, talk to an expert real estate agent.

Set aside 10–15% of your budget for unexpected expenses. Renovations never cost less than expected.

If you want granite countertops on a budget, you can do it! You just need to save on items like flooring, backsplashes or lighting fixtures. Ceramic vinyl and laminate flooring is becoming extremely popular – it can be a DIY project and it looks quite nice!
Quartz Countertops:

The battle of engineered quartz versus natural stone (granite) rages on. For the first time, engineered quartz is now more used in kitchen remodels than stone (43% versus 34% in 2018) and projected to increase the gap further 2019.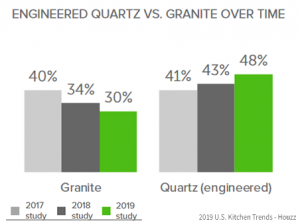 Flooring by Engineered Materials:



In recent years, there has been a significant decline in those opting for natural hardwood.
Engineered flooring has become collectively more popular than hardwood, with vinyl flooring keeping pace with laminate and engineered wood! Based on the table below, 17% + 11% + 12% = 40% of renovators prefer engineered materials over hardwood (24%).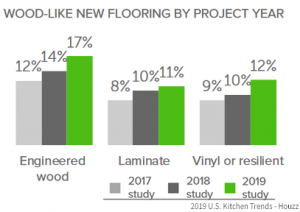 The Rise of Tech:

Among those upgrading faucets and appliances, the choice of high-tech devices is growing in popularity. Over half of upgraded faucets are high-tech (57%), boasting water efficiency, no-fingerprint coating or touch-free activation.  The adoption of appliances with wireless controls nearly doubled year over year (9% versus 16% in 2018 and 2019 studies, respectively).
References:
"2018 U.S. Houzz Kitchen Trends Study." 2018 U.S. Houzz Kitchen Trends Study, Houzz Inc., 5 Jan. 2018, st.hzcdn.com/static/econ/HouzzKitchenStudy2018.pdf.
"Cost vs. Value 2018 | National | Remodeling." Remodeling.hw.net, www.remodeling.hw.net/cost-vs-value/2018/.
"2019 U.S. Houzz Kitchen Trends Study." Www.Houzz.com, Houzz Inc., 16 Jan. 2019, st.hzcdn.com/static/econ/U.S.KITCHENTRENDS19.pdf.