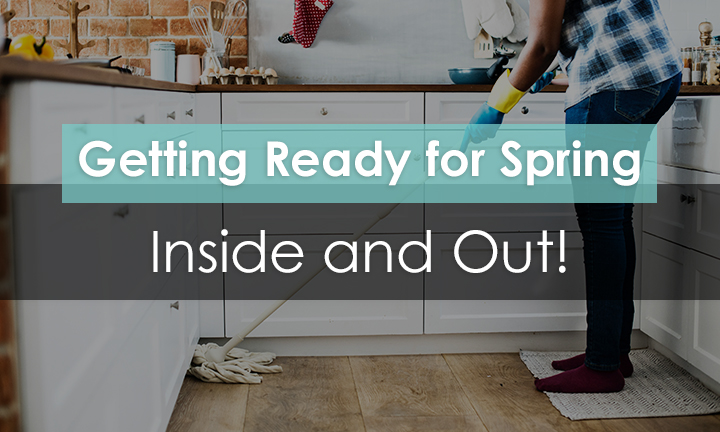 Getting Ready for Spring

Inside and Out.

Ah, spring: when a homeowner's fancy turns to thoughts of … cleaning, mulch, rain, and air conditioning. And that's a good thing! Your home and property will need a bit of TLC before you can really put winter behind you and properly welcome spring. Luckily, we've got you covered with this list of the major jobs you need to tackle before spring arrives.
Head up top.

It's a good idea to give your roof a once-over, especially if you've had a hard winter with lots of strong weather events. Check for loose or broken shingles, flashing that's pulled away from around vents and other protrusions, and blocked gutters.
Clean up.

Your home's siding and any concrete areas in your yard will look brighter and fresher after a good power wash. This will also give you a chance to see if any paint on your home is wearing away and needs touching up.
Scrub down.

Tools and outdoor equipment should be cleaned and oiled. Use steel wool to remove rust.
Mind the gaps.
Time to put up new weather-stripping if the old material is worn. Fill cracks in your concrete and examine your external wooden trim for holes and cracks as well (this could be a sign of insect damage).
Water, water, everywhere?
Check outdoor faucets and inspect hoses for rot or damage. If you have a sprinkler system, test it now.
Check the canopy.
Do you have any trees that sustained heavy damage over the winter? Are branches getting a little too close to power lines, or your roof? Prune them back, or for higher trees or greater issues, hire a tree service.
Prepare for outdoor living.
Inspect your outdoor furniture for rust, tears, sun fading, and other damage. Wash cushions or purchase new ones now before you really need them!
Use your sniffer.
If you have an attic, basement, crawl space, or unused rooms or closets, take a tour and pay attention to the smells you encounter. Insects and vermin can leave behind unique and unpleasant scents that will indicate you have a problem. Also check for signs of nesting and for droppings.
Move the furniture.
Bring your furniture away from the walls and out of its usual spot and give a thorough cleaning to those spaces you rarely see. This is also an opportunity to rearrange your rooms for a freshened-up look.
Clean the windows.
Let in that beautiful spring sunshine through super-clean glass.
Wash the curtains.
It's an oft-overlooked job! While you're at it, any throw blankets and washable decorative pillows should go in too. Pillows not washable? Toss them in the dryer on air dry with a fabric softener sheet or hang them outside in the sun and fresh air to get rid of mustiness.
Beat the rugs.
Yes, really. Hang your area rugs outside, on a line or over a line of chairs, and beat them with a hard instrument. You'll shake loose dust, dirt, dander, and other detritus trapped in the fibers that vacuums can't get to.
Scour appliances.
The washer and dryer, dishwasher, stove, fridge, and microwave generally don't get the attention they deserve. Make this spring the time you get them sparkling.
Don't forget fire safety.
Check the expiration dates on your fire extinguishers, replace the batteries in your smoke and CO2 alarms, and clean out the vent to your dryer.
These aren't all expensive tasks that require expert experience. Many are just routine chores that you need to schedule at least once a year. Start now, and you'll be all ready for the return of warm spring weather in no time.                 
A house that's had a thorough spring cleaning is a house that's ready to show to prospective buyers! If a freshen-up doesn't make you fall in love with your home all over again, talk to your mortgage professional about your options for making a move this spring.