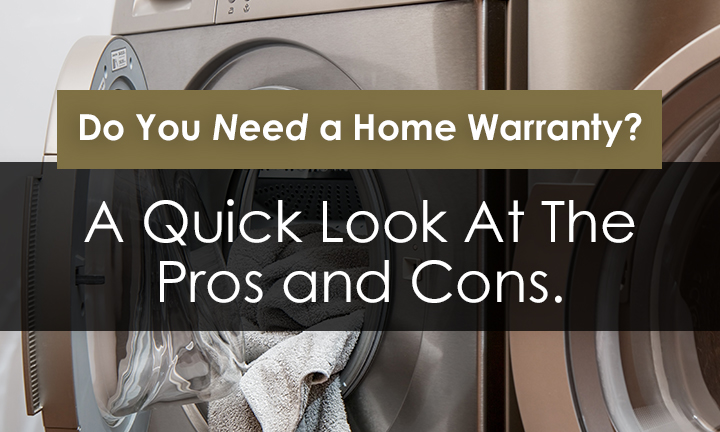 Do You Need a Home Warranty?
A Look At The Pros and Cons.
February 10th, 2019 / by Lake Area Mortgage
We all like having additional peace of mind when it comes to the systems and appliances in our homes. Things inevitably break down over time, but most of us don't plan for the furnace to die mid-winter or for the dishwasher to suddenly implode. A home warranty can offer some financial protection for those unexpected occurrences.
February 10 was National Home Warranty Day, which means it's the perfect time to explore whether a home warranty is right for you. The answer depends on the state of your appliances and system components, how much you're willing or able to pay out of pocket for repairs or replacements, and how much reassurance you'll get from having this coverage.
What is a home warranty?
A home warranty is a policy that covers repair and replacement of certain features and systems in your home. A warranty will cover damage due to normal wear and tear on major appliances, HVAC systems, and more (or less), depending on the coverage you choose. According to Realtor.com®, a one-year warranty can run anywhere from $300 to $600 and up, based on the items you choose to cover.
Home Warranty vs. Homeowners Insurance
You may be asking yourself, why might I need a home warranty when I have homeowners insurance? It's because the two cover very different things. Your homeowners insurance covers damage to the house itself, outbuildings, and structures on the property.
Your home warranty, on the other hand, usually covers a package of appliances or systems. This generally includes HVAC, washer and dryer, kitchen appliances, and electrical and plumbing systems. In addition, you could purchase supplemental coverage for things like your swimming pool or septic pump.
The Pros and Cons of a Home Warranty
It's useful to look at both sides when deciding whether purchasing a home warranty is right for you.
Pros-
Protects you from surprise repair costs, especially when you first move in
Covers breakdowns due to normal wear and tear
Good for people who aren't handy or don't have a regular contractor they use
Good for homeowners with expensive appliances
You typically pay less overall for repairs and replacements
Cons-
Charges a service call fee for each visit
Warranty doesn't cover "improperly maintained" items, and warranty company has discretion to define what that means
If coverage is denied, homeowner has to pay service call fee plus repairs
May have many exclusions
May have a dollar limit on a coverage or deductible
Bottom Line: Will It Save Me Money?
Like any form of insurance, when you have it and you don't need it, it's frustrating, but when you need it and you don't have it, it's even worse. If you have appliances nearing the end of their lifespans, do a little research and determine how much it would cost you to repair each piece, and how much it would cost to replace with a new item. If replacing your 30-year-old HVAC system would cost you $6,000, and your home warranty is $350 per year with $40 service calls, it may be worth your while to purchase that warranty, especially if you're coming to distrust the reliability of the HVAC you have. Alternatively, you could take the money you would have spent on a home warranty and put it in a rainy-day fund dedicated solely to the repair and replacement costs of your appliances and systems.
One of the best things a home warranty can provide for you is peace of mind. New homeowners and long-time homeowners alike can take comfort in the fact that surprise breakdowns could be taken care of with just a small cash outlay and a lot less hassle than hunting up a repair or replacement provider on your own.
Regardless, a refinance could free up some money in your monthly budget to afford the cost of your home warranty or repairs. Talk to a mortgage expert about your options!
*Lake Area Mortgage is not an insurance company. Consult your insurance agent for information about your insurance policy