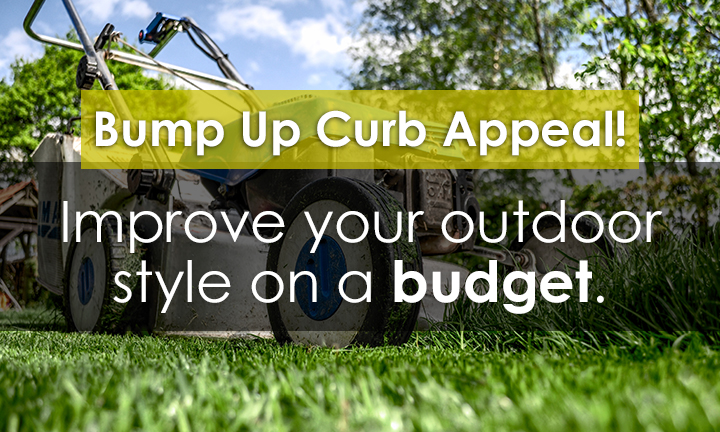 Bump Up Curb Appeal!

Improve your outdoor style on a budget.

When it comes to selling your home, first impressions matter. The outside of your home should draw prospective buyers in and make them want to see more. If you're going to put your home on the market this spring, one of the first things you need to do is take a step back and turn a critical eye to the front of your home. Even if you're not contemplating a move, a beautiful façade will make your home a joy to, well, come home to.
When prospective buyers pull up to the front of your home and take in their first view, they want to see a clean, pretty building that they can imagine as their own. Washing the front of your home and the walkway will refresh the façade and may even make repainting the front unnecessary. Some Realtors will say it can add $10,000 to $15,000 to the sale price,2 and renting a power washer can cost less than $100 per day.
Pro Tip: Concrete driveways can look refreshed after a power wash too!
Fix up the front door and entryway.
A freshly painted door in a bold color with shiny new hardware can make a bright change for less than $75. New house numbers in a modern style add appeal, and a new doormat can send a welcoming message to all who approach. Finish off the rehab with a stylish letterbox that just shouts Buy me!
Your windows should sparkle. They should be so clean that you can't even tell there's glass in them! Be sure to clean them inside and out. While you're at it, giving your blinds and curtains a wash is a great idea too.
Your front yard should be green and neatly trimmed, with no bald patches or brown grass. Trees and shrubs should be pruned and shaped. Clean up your flower garden and put down some fresh, dark mulch for a rich-looking bed. No flowers? Fill large tubs halfway with pebbles or wood chips, add soil on top, and plant bunches of bright flora that will bloom for at least a month.
Pro Tip: Turn on your sprinklers before viewings. The sparkle on your greenery and the fresh scent of water on plants will enhance your home's attractiveness.
It's something you might not think about, but it's the least expensive job on this list: Ensuring convenient parking for real estate agents and their clients — and having open space in front of your home — can make your property seem more accessible and slightly bigger. Can't guarantee a front-row parking space in your neighborhood? At least be sure to remove toys, lawn tools, and any other unnecessary items from your front yard. A buyer needs to see your home with nothing blocking the view.
Once you have your home looking great from the street, the challenge is to keep it looking wonderful through all of the upcoming showings. Make a schedule to stay on top of mowing, weeding, watering, and other lawn and plant maintenance, plus keeping the driveway clean and the porch swept. And be sure to include pulling weeds from between stepping-stones or bricks on your list. All of those little details mean a lot when it comes to curb appeal.
Are you looking to make a few bigger changes? Whether you're upping your curb appeal for your own pleasure or to put your home on the market this spring, we've got financing options that could help you get the ball rolling. Let's talk about making some beautiful updates!
Sources:
[1] National Association of REALTORS®, 2018 Remodeling Impact Report: Outdoor Features.
[2] Houselogic, "8 Tips for Adding Curb Appeal and Value to Your Home."