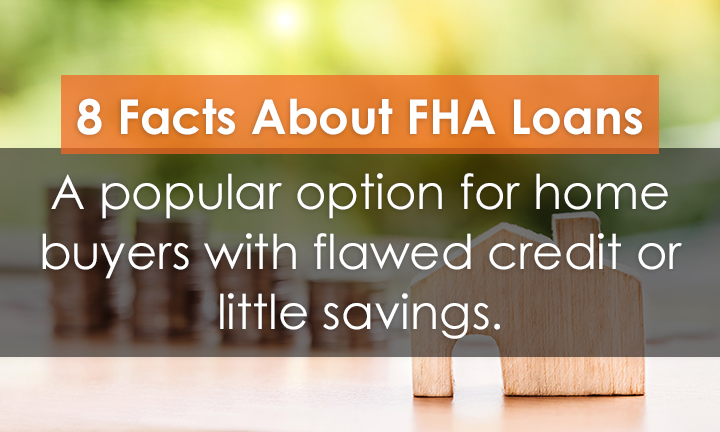 8 Facts About FHA Loans

A popular option for home buyers with flawed credit or little savings.

May 14th, 2019 / by Lake Area Mortgage
What's all the hype about these FHA loans? For most home buyers (especially first-timers), it's easier to qualify for an FHA loan than for a conventional loan. The FHA insures mortgages issued by private lenders, protecting them financially in case you default. The main pull: an FHA loan allows for lower credit scores and lower down payment options than a traditional conventional loan. 
1. A "less-than perfect" credit score is okay!

Keep in mind:
Minimum credit scores for FHA loans depend on the type of loan the borrower needs.
Qualifying for an FHA loan depends on much more than just your credit score.
Check your credit score for free once a year at annualcreditreport.com
2. Your minimum down payment could be as little as 3.5%!
As noted in our first fact, you may qualify for a lower down payment. Allowed sources of down payment money are:
Cash (you can't bring literal cash to the closing table, but, for example, "cash" would be money in your checking account)
Gifted money (talk to your mortgage professional about gifted funds before any money is transferred to you for the down payment)
Grants (from a state or local government down payment assistance program)
3. Closing costs may be covered!

The FHA allows home sellers, builders and lenders to pay some of the borrower's closing costs, such as an appraisal, credit report or title expenses. For example, a builder might offer to pay your closing costs as an incentive for using them to build your home. 
4. Your lender must be FHA-Approved.

Good news! Lake Area Mortgage is an approved lender!
Because the FHA is not a lender, but rather an insurer, borrowers need to get their loan through an FHA-approved lender. Not all FHA approved lenders offer the same interest rate and costs -even on the same FHA loan!
5. Mortgage insurance is required.

Mortgage insurance premiums are required on all FHA loans. There are two types of premiums, both of which need to be paid for by the borrower (just at different times within the life of the loan).
Upfront Premium

75% of the loan amount
Paid when the borrower signs off on the loan
Can be financed into/as part of the loan amount

Annual Premium

Paid monthly
Varies based on the length of loan, loan amount, and the initial loan-to-value ratio
Keep in mind – Unlike conventional mortgage insurance, FHA mortgage insurance cannot be canceled if you made a down payment of less than 10%.
6. You can borrow cash for repairs via an FHA loan!
The 203K loan is the FHA's special loan product for borrowers buying a home in need of repairs before deemed "livable". If the location is great and the property has potential, this could be an option to make it happen! Because the Federal Housing Authority is involved, lenders are willing to move forward with a property they otherwise wouldn't touch.
The loan amount is not based on the current appraised value of the home, but on the projected value after the repairs are completed.
*Talk to your mortgage professional about the requirements and availability for this loan product in your area
7. There is no "set" loan limit,.

The maximum FHA loan size depends on where the home is. The limit is lower in the least expensive housing markets and higher in the most expensive housing markets.
You can look up loan limits by county on the U.S. Department of Housing and Urban Development website – https://entp.hud.gov/idapp/html/hicostlook.cfm
8. There are property limitations.

While most of our facts have been positives towards an FHA loan, there are some drawbacks and situations where FHA loans aren't right for buyers. Getting an FHA loan approved requires a property that meets certain standards. For example, basic health and safety requirements must be met. If you're looking for a fixer-upper, a major bargain, or certain foreclosures, an FHA loan isn't going to work. FHA loans require a more thorough inspection by an FHA approved appraiser.
*Ask your mortgage professional for a list of repairs that must be done before your appraisal.  
That completes our list! As stated before, make sure to ask your mortgage professional if an FHA loan is right for you and your future goals!
Happy house hunting!